Hello!! This weekend I was in London for Drag World UK!
Now living in Lincolnshire I get the impression they do not like us visiting London early on a Sunday morning the only way I could get in for a decent time was to travel to Doncaster to get a train. I could get all the way home later in the day by changing at Doncaster and getting a train home but oh no, not in the morning!! To be fair I have seen what I look like first thing in a morning so maybe a fair call!!! haha!!
This, however, meant an early morning alarm call. I decided to wear my Binge Design La Voix leggings and boots and my La Voix, jacket and vest top t shirt. I had it all ready the night before so all that was needed after a quick jump in the shower was to dry my freshly dyed pink hair put clothes on, apply makeup and out the door!
I waited until I got to Doncaster station before fixing on my beautiful headdress, made by the very talented Emma Shortland of Peacock Pretties
Meeting up with friends made it a great trip into London, arriving at Kings Cross station just after 10am!
It is at this station that there is the Harry Potter 9 3/4 platform. The queue for this later in the day was amazing, for that and the Harry Potter shop. Obviously it is on the tourist map as a must do in London.
I was surprised that there are quite a few high quality shops in the station and various places to eat and drink.
Once we left the station I must admit I relied on my friend here, to negotiate the underground, and after a near miss when we almost headed off to a day in Wimbledon, we arrived at Olympia, Drag World unscathed!!
There was the customary bag search but this was done swiftly and everybody was in such high spirits that it was all part of the experience.
On entering the arena I was like a child at Disneyland! Wow! Everywhere you looked there was sparkle, glitter, and just fabulousness.
We had only just stepped into the arena as Willam glided past on a Segway, hoverboard. She literally came right up to me and several times in the day glided past, looking amazing!
She was one of the queens who did not charge to meet her in her booth.
You pay an entrance fee, which for one day was £35, then limited meet and greet tickets are released during the year and these start at £15
Meet and greet times are announced later and these are in separate booths.
Each drag queen is given another booth in the main arena and it is here you can queue to meet them, although this is not guaranteed. Some, like Willam, see you and you did not have to pay anything, others would charge for a photograph or others you had to buy some merchandise to meet them.
I did not purchase any tickets but still got so close to fabulous Queens, including Trixie Mattel, Lattrice Royale, Alaska Thunderfuck, Jinkx Monsoon, Ginger Minj and Willam.
The ones I could not get near were the family Gorgeous. They had a queue all day and seemed like amazing people, taking their time with everybody who wanted to speak to them. Have you seen their Channel four show Drag SOS?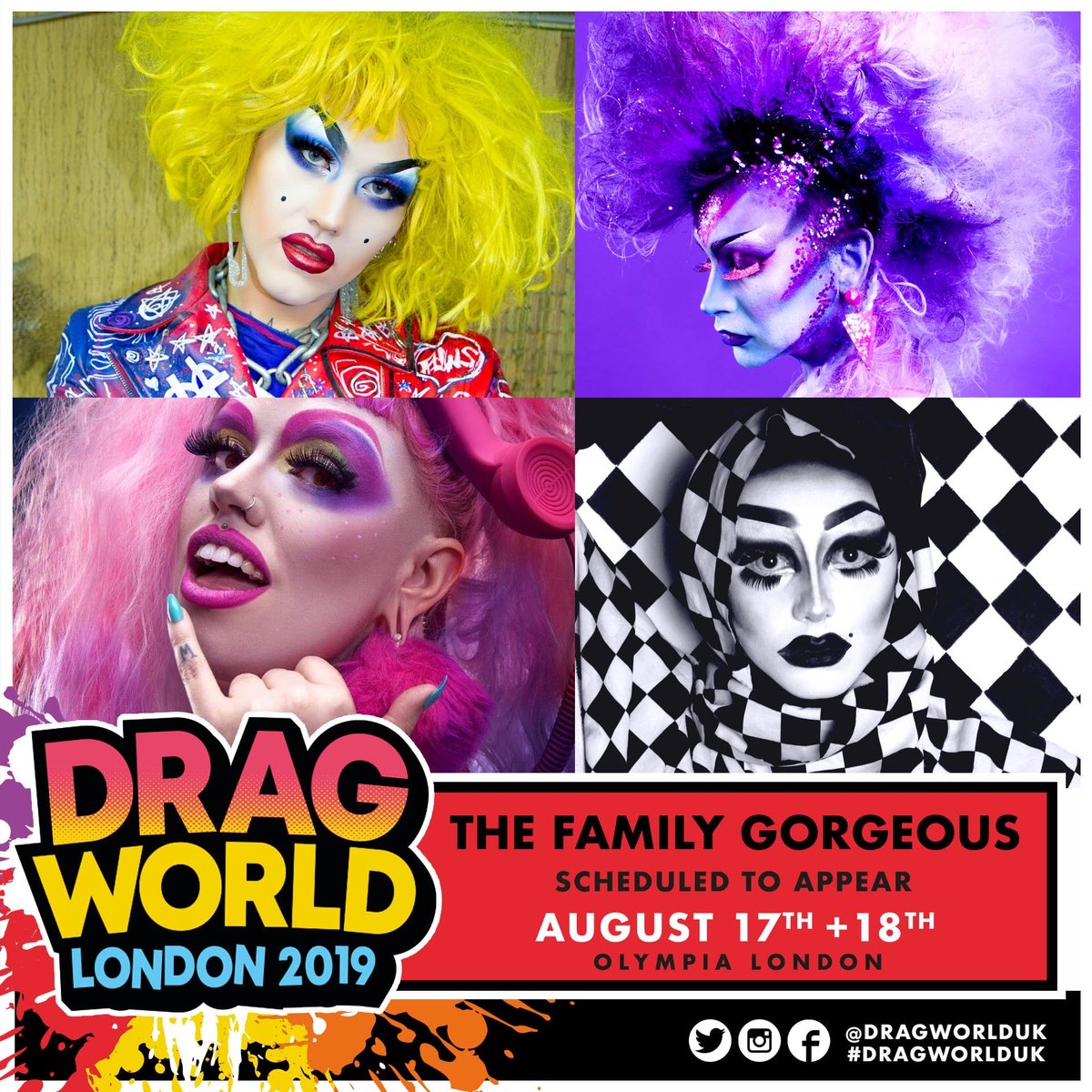 Photo from Drag World UK
Throughout the day there was a full timetable of catwalk events. Performances from the likes of Dolly Trolley, Lydia La Scabies and Joe Black, to name just a few.
At the other end of the arena was a stage with talks and demonstrations. My favourites here was the talk about Music. What Feelings Sound Like, with Ginger Minj, Jinkx Monsoon and Trixie Mattell.
Around the arena was crammed full with amazing stalls. We walked round it so many times and I still do not think I saw everything!
Sequin Showstoppers
Everybody was so friendly and approachable and although it must had been a long weekend for them, they still had the brightest smiles on their faces, late Sunday afternoon.
I picked up many cards that I will share with you in future posts.
We were given free sunglasses by Barefoot Wine who were the sponsers of Drag World.
Photo from DragWorld UK
Everybody was there for a good time. Everyone was just soaking up the atmosphere and chatting to others they had never met but felt akin in their love of being there.
I met the most fabulous people.
There were opportunities to purchase food and drink, although we did not discover most of them until it was time to leave! I had taken a sandwich, crisps and water and purchased a pizza later in the day at Kings Cross Station in Prezzo, on the top floor of the station.
I left feeling on top of the world and to me that is what drag should do!
Did the day live up to my expectations? More so and as I Sashed away I knew next year it would be Shantay you stay!
Did you go? What did you think?
Do you fancy going next year? Please comment and let me know your views!
Sparkle Hugs and Glitter Kisses xxx
All photographs, unless stated, are the copyright of Lorna Liza